Dr Sadlon's Dental Blog
Posts for tag: mouthguards
By Sadlon Dentistry
February 10, 2013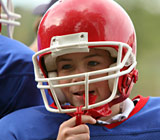 One question we are most often asked by parents of athletes or those who participate in physical sports is, "Do mouthguards really work?" And when we respond, "yes," a common follow-up question is, "Is there any scientific evidence to support this claim?" Based on this scenario, we feel it is important to provide you with some interesting and evidence-based facts on this topic.
The first reported use of mouthguards was in the sport of boxing. And because participants and bystanders in the 1920s quickly witnessed their effectiveness even back then, the trend's popularity grew to the point that boxing became the first professional sport to require them. However, other sports soon started following this lead — especially those high-contact sports. The American Dental Association (ADA) started mandating the use of mouthguards for football in 1962 and the US National Collegiate Athletic Association (NCAA) currently requires mouthguards for football, ice hockey, lacrosse and field hockey. The ADA has since expanded their recommendations to now include 29 different sports and exercise activities. So now that you know more about the professional organizations pushing the use of mouthguards, let's get back to the second question, "What's the evidence?"
There have been numerous studies over the years regarding the properties of mouthguards, and more specifically their shock absorbing capabilities. Other studies have been based upon their protective abilities due to their stiffness, hardness and strength. This research has enabled us to vastly improve upon the effectiveness of mouthguards. For example, years ago latex rubber was a popular material used to create mouthguards. However, today we use products such as ethylene vinyl acetate or polyurethane because they are far superior in durability and flexibility. And impact studies have shown that the chances of fracturing teeth is dramatically reduced when wearing one of these mouthguards...especially when compared to individuals wearing no mouthguard at all. In fact, research has revealed that by not wearing a mouthguard during physical sports or exercise, individuals are 60 times more likely to experience an injury to the mouth and/or teeth.
To learn more about the importance of protective mouthguards, continue reading the Dear Doctor magazine article "Athletic Mouthguards." Or you can contact us today to schedule an appointment to discuss your questions about mouthguards.
By Sadlon Dentistry
July 17, 2011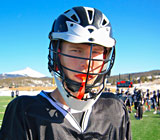 We have learned that an important part of oral health is education — but more importantly, making it fun to learn so that you retain (and apply) what you learn! For this reason, we have put together the following self-test so that you can quickly access your knowledge on the subject of mouthguards.
The first sport to use (and require) protective mouthguards was:

football
boxing
baseball
ice hockey

Research conducted by the American Dental Association (ADA) found that individuals are ___ times more likely to damage their teeth when not wearing a mouthguard while engaged in contact sports or rigorous physical exercise.

10
20
40
60

As a rule of thumb, females do not require mouthguards because they are not as physically active as their male counterparts.

True
False

The American Academy of General Dentistry (AAGD) reports that mouthguards prevent more than ______ injuries to the mouth and/or teeth each year.

200,000
300,000
400,000
500,000

Which of the following sports or activities does the ADA recommend that participants wear protective mouthguards:

acrobatics
bicycling
handball
all of the above

The US Centers for Disease Control (CDC) reports that more than ______ sports-related injuries end-up in the emergency room each year with injury or damage to the teeth and mouth.

275,000
425,000
600,000
735,000

Over-the-counter mouthguards are just as effective as professionally made mouthguards.

True
False

In addition to the trauma of having a tooth (or teeth) knocked out, individuals who have suffered from this type of injury may end up spending ______ per tooth over a lifetime for teeth that are not properly preserved and replanted according to the National Youth Sports Foundation for Safety.

$10,000 to $20,000
$15,000 to $25,000
$25,000 to $35,000
Less than $10,000
Answers: 1) b, 2) d, 3) b, 4) a, 5) d, 6) c, 7) b, 8) a
You can learn more about the importance of mouthguards when you continue reading the Dear Doctor magazine article "Athletic Mouthguards." And if you have already experienced a dental injury, it may not be too late. However, we need to evaluate the damage so that we can establish a plan for restoring optimal oral health. Contact us today to learn more about protecting your mouth and teeth or to schedule an appointment.