Dr Sadlon's Dental Blog
Posts for tag: dental implant
By Sadlon Dentistry
February 15, 2013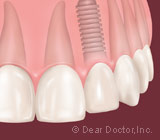 If you've lost one or more of your teeth due to tooth decay, trauma, gum disease or a failed root canal, there are a variety of ways that our office can help you to restore your smile and increase your confidence. Crowns, conventional bridges and dentures aren't your only options for replacing missing teeth. Dental implants, surgically placed below the gums, are another alternative for replacing missing teeth.
Getting Started: If you would like to explore the option of having dental implants to replace one or more teeth, you will first need a comprehensive exam. The ideal candidate for implants is in good general and oral health. Adequate bone in your jaw is needed to support an implant. Smokers and those with uncontrolled chronic diseases like diabetes may not be good candidates for dental implants because healing may be impaired or slow. In addition, dental implants aren't appropriate for children or teens until their jaw growth is complete.
The Process: Dental implant surgery can be performed in our office using either a local or general anesthetic. The implants actually replace tooth roots; they are placed into the bone surgically. Generally made of commercially pure titanium, this metal has the remarkable ability to fuse with the bone as it heals forming a union known as osseointegration ("osseo" – bone; "integration" – to fuse with). This process takes two to six months depending upon many factors of which bone quality is the most important.
The next step is to place an abutment (a small connector) which attaches the implant to the crown. The crown is the part of the tooth that is normally seen in the mouth above the gums.
Assessment of your individual situation and deciding if dental implants are right for you takes knowledge and experience. Contact us today to schedule an appointment to discuss any questions you may have regarding dental implants. Read more about this topic in the Dear Doctor magazine article "Dental Implants: Options for Replacing Missing Teeth."
By Sadlon Dentistry
December 25, 2011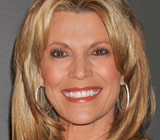 As the co-host of one of America's most beloved television game shows, Wheel of Fortune, Vanna White is recognized for her beautiful gowns and her dazzling smile. However, during an exclusive interview with Dear Doctor magazine, she shared her experiences with cosmetic dentistry. "I had a bridge put in probably 30 years ago where I had a tooth pulled and there was a space," Vanna said.
Prior to having a permanent tooth pulled, most people are concerned with what can be done to replace it. It's important to follow through and do exactly that. This is especially true with back teeth. Just because you can't see them, it doesn't mean you won't face problems if they are not replaced.
For example, did you know that missing posterior (back) teeth can lead to a wide array or problems with the remaining teeth, muscles, ligaments, joints and jaw bones? This includes:
A decrease in chewing efficiency that in turn can impact your diet, nutrition and overall health
Excessive erosion or wear of remaining teeth
Tipping, migration, rotation and even loss of adjacent remaining teeth
Painful jaw problems such as Temporomandibular Dysfunction (TMD)
One treatment option is to follow in Vanna's footsteps and consider a fixed bridge. This is an excellent option when dental implants won't work. And through our artistry, we can easily blend them in color and appearance with your surrounding teeth.
When implants are possible, they represent the best option. They are easily maintained and are a durable, long-lasting solution that can increase bite support.
To learn more about this topic, continue reading the Dear Doctor magazine article "Replacing Back Teeth." Or if you are already missing a permanent tooth, you can contact us today to schedule an appointment so that we can conduct a thorough examination. We will also address any questions you have as well as your treatment options. And if you want to read the entire feature article on Vanna White, continue reading "Vanna White."
By Sadlon Dentistry
July 31, 2011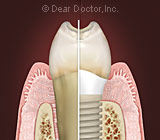 How much do you know about dental implants? Test yourself with this quiz.
Earliest recorded attempts at using dental implants were from

Medieval England
The ancient Mayans
U.S.A. in the 1950s

Dental implants are called endosseous. What does this mean?

They fuse with the bone
They are inside the mouth
They are not real teeth

What are most dental implants made of?

Aluminum
Titanium
Steel

What part of the tooth does an implant replace?

The implant is the root replacement
The implant is the root plus the crown
The implant is the crown

What is the success rate of dental implants?

50 percent or less
75 percent
95 percent or more

What could cause an implant to fail?

Smoking or drug use
Poor bone quality and quantity at the implant site
Both of the above

What is a tooth's emergence profile?

The implant and crown's shape as it emerges from beneath the gum line
A measure of the urgency of the tooth replacement
A measure of the time it takes for you to be able to chew on the new implant

What are some of the factors that go into the aesthetics of designing the crown?

Choice of materials
Color matching
Both of the above
Answers:
b. The concept of dental implants goes back to the Mayan civilization in 600 AD.
a. The word endosseous (from endo meaning within and osseo meaning bone) refers to the implant's ability to fuse with or integrate with the bone in which it is placed.
b. Most implants are made of a titanium alloy, a metallic substance that is not rejected by the body and is able to fuse with the bone.
a. The term "implant" refers to the root replacement, which is anchored in the gum and bone. A crown is put around the implant where it emerges from the gumline.
c. The majority of studies have shown long term success rates of over 95 percent.
c. Factors that could cause an implant to fail include general health concerns such as smoking and drug use, osteoporosis, or a compromised immune system; poor bone quality or quantity; and poor maintenance such as lack of proper brushing and flossing.
a. The emergence profile has a lot to do with the implant's natural appearance. It involves the way the crown, which attaches to the implant, seemingly emerges through the gum tissue like a natural tooth.
c. Choices such as materials, color, and position can be worked out in the design of a customized temporary crown, which acts as a template or blueprint for a final crown.
Contact us today to schedule an appointment to discuss your questions about dental implants. You can also learn more by reading the Dear Doctor magazine article "Matching Teeth & Implants."