Dr Sadlon's Dental Blog
Posts for tag: dental emergencies
By Sadlon Dentistry
August 30, 2012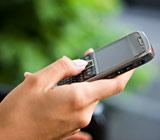 People always wonder when it is appropriate to contact their dentist. To answer this, we have put together the following list to provide some guidelines for you and your family. However, your calls are always welcome! Our goal is simply to give you some clear scenarios that illustrate when you should give us a call or come in to our office.
For Bite Related Problems
Early or late loss of baby teeth.
Difficulty in chewing or biting.
Mouth breathing.
Finger sucking or other oral habits.
Crowding, misplaced, crooked or even missing teeth.
Jaws that shift, jaw joints that "pop" or "click" or are uncomfortable.
Any change causing speech difficulty.
Cheek or tongue biting.
Protruding teeth — large overbite.
Teeth that meet in an abnormal way or don't meet at all.
Facial imbalance or asymmetry.
Grinding or clenching of teeth.
For Injuries And Immediate Care
Knocked out permanent tooth: Call us immediately. You need to take action within 5 minutes of the injury for best results.
Injuries to lips, cheeks, tongue or gums that appear to require stitches: Call us for instructions as soon as possible.
Tooth injury — if a tooth has shifted from its original position: Call us to tell us you are on your way to our office and see us within 6 hours of the injury.
Chipped or broken tooth that is still in its original position: See us within 12 hours of the injury.
A knocked out baby tooth: Call us as soon as possible.
Bleeding without any significant tears in tissue that could require stitches: Call us for instructions.
What To Do Now
If any of the above describe you or another member of your family, then contact us today to discuss your questions or to schedule a consultation. You can also learn more about treating dental injuries by reading the Dear Doctor article, "The Field-Side Guide To Dental Injuries."
By Sadlon Dentistry
September 25, 2011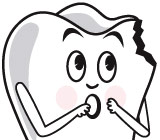 Nearly every parent and caregiver has experienced that almost instantaneous sick feeling when they see that their child has been injured, especially when it is an injury to the mouth and teeth. For some, it is just a bloody lip; however, if the accident chipped a tooth, then you may have a completely different situation on your hands. If the nerve of the tooth has not been damaged, you needn't worry too much — a composite (plastic) tooth-colored restoration that is actually bonded to the tooth is an ideal material for repairing most broken or chipped teeth. See us as soon as possible to assess the extent of injury, so that proper and appropriate action can be taken.
An additional reason why bonding with composite resin may be the ideal choice for repairing a child's chipped tooth is that it can be custom created in virtually any shade so that it perfectly matches the damaged tooth and the surrounding teeth. It is also far less expensive than a crown, an important factor to consider when repairing a primary (baby) tooth that will eventually fall out to make room for a permanent tooth. If the injury is to a permanent tooth, a composite resin still may be ideal to use as a restoration until your child or teenager has stopped growing or playing contact sports. This is because your teenager may be too young for a more permanent restoration such as a crown or porcelain veneer.
An important, proactive step you can take to be prepared for the next time your child has a dental injury is to download Dear Doctor's Field-side Pocket Guide for Dental Injuries. This handy, quick reference guide is a must have for athletes, parents, caregivers, teachers, coaches or anyone who is often in an environment where a mouth injury is likely to occur. Knowing what to do and how quickly you must respond can make the critical difference between saving and losing a tooth.