Dr Sadlon's Dental Blog
Posts for tag: bonding
By Sadlon Dentistry
April 04, 2012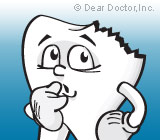 What is composite resin bonding?
This term refers to a kind of tooth-colored material that is a mixture of a plastic resin and a glass filler. The glass gives the mixture, or composite, strength and translucency that is similar to a natural tooth. The composite is bonded to the tooth by slightly abrading or roughening the tooth so that the resin fills in small cuts in the tooth surface and bonds with it. The end result functions and looks like part of the original tooth.
What is bonding used for?
This technique is a good way to restore chipped or stained teeth or to change a tooth's shape or color. It can also be used to restore parts of a tooth near the gum line where the gums have receded and left the root partially exposed.
What are the advantages of bonding?
Composite resin tooth restorations have several advantages.
They take only a single dental visit because they are done right in the dental chair rather than having to be sent to a dental lab for preparation.
They are less expensive than many other dental restorations.
They leave most of the original tooth intact since little tooth preparation or drilling has to be done in order to make the composite material bond to the tooth.
They can be made in a wide range of colors and can be matched well with the teeth around them.
Because little of the original tooth has to be removed, they are a good choice for teens, whose dental arches (upper and lower jaws) are still developing.
What are the disadvantages of bonding?
The composite resin material is not as strong as the original tooth material, so the bonded restorations may not last over a long time. If it does last, the material may also stain as it ages.
When should you choose bonding?
Composite resin bonding is a good choice for a quick and attractive tooth restoration that may be replaced later by something more permanent, such as porcelain veneers.
Contact us today to schedule an appointment to discuss your questions about bonding. You can also learn more by reading the Dear Doctor magazine article "Repairing Chipped Teeth."
By Sadlon Dentistry
September 25, 2011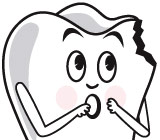 Nearly every parent and caregiver has experienced that almost instantaneous sick feeling when they see that their child has been injured, especially when it is an injury to the mouth and teeth. For some, it is just a bloody lip; however, if the accident chipped a tooth, then you may have a completely different situation on your hands. If the nerve of the tooth has not been damaged, you needn't worry too much — a composite (plastic) tooth-colored restoration that is actually bonded to the tooth is an ideal material for repairing most broken or chipped teeth. See us as soon as possible to assess the extent of injury, so that proper and appropriate action can be taken.
An additional reason why bonding with composite resin may be the ideal choice for repairing a child's chipped tooth is that it can be custom created in virtually any shade so that it perfectly matches the damaged tooth and the surrounding teeth. It is also far less expensive than a crown, an important factor to consider when repairing a primary (baby) tooth that will eventually fall out to make room for a permanent tooth. If the injury is to a permanent tooth, a composite resin still may be ideal to use as a restoration until your child or teenager has stopped growing or playing contact sports. This is because your teenager may be too young for a more permanent restoration such as a crown or porcelain veneer.
An important, proactive step you can take to be prepared for the next time your child has a dental injury is to download Dear Doctor's Field-side Pocket Guide for Dental Injuries. This handy, quick reference guide is a must have for athletes, parents, caregivers, teachers, coaches or anyone who is often in an environment where a mouth injury is likely to occur. Knowing what to do and how quickly you must respond can make the critical difference between saving and losing a tooth.