Dr Sadlon's Dental Blog
Posts for tag: bad breath
By Sadlon Dentistry
July 17, 2012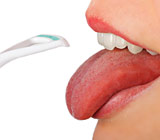 We are often asked about the role the tongue plays with bad breath or halitosis, as it is known medically. The truth is that everyone will experience it at some point in life; however, there can be a number of reasons for its cause. Some of these include:
Consuming odorous foods and/or drinks such as coffee, onions and garlic. This is usually just a temporary condition that can be resolved by brushing and flossing your teeth and using mouthwash. Also consider chewing gum containing xylitol, a sugar-free gum that both promotes saliva flow and reduces tooth decay.
Diabetes, a disease caused by a faulty metabolism of sugar, as well as diseases of the liver and kidneys can also cause bad breath. Be sure to always let all your health care professionals know if you have any unusual symptoms or you been diagnosed with any of these or other illnesses.
Poor oral hygiene, which causes gingivitis (gum disease), is one of the most common reasons for bad breath. And if your gum disease is progressive, you could eventually lose your teeth.
If you use tobacco and regularly drink large amounts of alcohol, you are dramatically increasing the likelihood of having halitosis.
And lastly, if you do not drink enough water to maintain proper hydration, you can develop bad breath.
There are more than 600 types of bacteria found in the average mouth, many of which can cause bad breath. And the back of the tongue is where these bacteria typically produce Volatile Sulfur Compounds (VSC), the culprits responsible for the worst odors attributed to halitosis.
As for cleaning your tongue, there are two common methods. You can use your toothbrush to brush your tongue, or you can use a tongue-scraper. The latter can generally be purchased at a drug or discount store. The keys to remember are that a clean, healthy tongue should be pink in color and not have a yellow or brownish coating.
By Sadlon Dentistry
March 03, 2012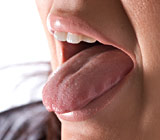 Considering that over 90 million Americans suffer from chronic bad breath and everyone else has dealt with some form of it at one time or another, we want to address some common causes and cures so you are prepared if it happens to you.
What are the most common causes of bad breath?
Halitosis or bad breath most often occurs when you have poor oral hygiene and/or routinely consume odorous foods and drinks. In fact, 90% percent of mouth odors come from the food you eat or bacteria that's already there, according to the American Dental Association. Other causes for halitosis include:
Excessive bacterial growth in the mouth and especially on the tongue
Known and characteristically odor producing foods and drinks such as onions, garlic, coffee, tobacco and alcohol products
Diabetes and diseases of the liver and kidneys
A poorly hydrated body (and mouth) from not drinking enough water everyday
What should I do if I feel (or people tell me) I have chronic bad breath?
Contact us to schedule an appointment for a proper diagnosis and plan of action for returning your mouth to optimal health.
What are some tips I can do to prevent occasional bad breath?
In most cases, bad breath is totally preventable when you follow the tips below:
Brush your teeth in the morning and at bedtime using a fluoride toothpaste and a proper (and gentle) brushing technique.
Floss your teeth at least once a day.
Clean your tongue after brushing your teeth with either a scraping tool you can purchase at a drug or discount store or by gently brushing it with your toothbrush.
Keep your mouth moist by drinking plenty of water during the day.
Be prepared by having some mouth cleaning tools (floss, a toothbrush, toothpaste or some sugar free gum) handy to freshen your mouth after consuming bad smelling foods, drinks or using tobacco or alcohol.
Eat fresh fruits and vegetables to increase saliva production in your mouth and help remove food particles that can lodge between teeth.
Maintain regular dental check-ups.
Want to learn more?
Contact us today to discuss your questions or to schedule an appointment. You can also learn more about halitosis by reading the Dear Doctor article, "Bad Breath — More than Just Embarrassing."