Dr Sadlon's Dental Blog
Posts for: February, 2012
By Sadlon Dentistry
February 16, 2012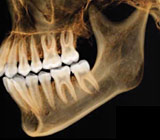 CAT scans or Computer Assisted Tomograph scans have been around for years. However, it is quickly becoming the new standard in dentistry. The reasons are clear both literally and figuratively, as they provide our office with millions of pictures so that we can combine them together to create 3-dimensional (3-D) images. Prior to this technology, we could only image the body in 2-dimensions with x-rays (radiographs) — a technology first developed by Roentgen.
One of the best features of CAT scans and CBCT (Cone Beam Computed Tomography) scanning is that they enable us to see and experience the body from the inside. Having this ability changes (and many times) improves upon the way we diagnose. Here's how they work in very simplistic terms. Picture your favorite multi-layered cake with each layer representing an image. A three-layer cake requires just three images. For us to build a 3-D image similar to the cake, we require millions of very thin layers (images) that we put together, one on top of another, until our results, one 3-D image. And by having so many thin layers, we are best able to diagnose. For example, in our cake analogy, it is easier to determine if the cake contains finely chopped nuts, berries or other ingredients when you cut numerous very thin slices of cake to examine versus having one large chunk of cake.
It is important to note that in our office we may not recommend using this technology in all cases, as it may not be necessary for your particular diagnosis and/or treatment. While the technology can prove invaluable, it is quite expensive and a simple 2-D x-ray may provide everything we need. However, some dental specialty areas where CAT scans are currently used include:
Orthodontists and pediatric dentists
Cosmetic dentists and tooth replacement specialists (prosthodontists)
Oral surgeons
Root canal specialists (endodontists)
Gum specialist (periodontists)
To learn more about CAT scans and how they are used in the various specialty areas, read the Dear Doctor magazine article "CAT Scans in Dentistry." Or you can contact us today to schedule an appointment to discuss your specific questions.
By Sadlon Dentistry
February 08, 2012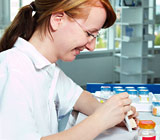 While we have gained recognition for our role in creating gorgeous smiles with porcelain veneers, the often overlooked or unknown key contributors in this process are the dental laboratory technicians. These behind-the-scenes artists are the trained professionals in the art of using dental porcelain to hand-craft veneers and crowns into near exact replicas of natural teeth in shine, opacity, translucence and shape.
Through the use of precise molds and excellent communication skills, we share detailed information with the laboratory technician to create veneers or crowns specifically for enhancing and improving your smile. In fact, communication must be so exact that it often demands correct lighting, cameras and computers to produce optimal results. This process also requires a variety of colors, shapes and translucency, created so that once we cement them into place, they appear as beautiful natural teeth. If your veneers are part of a smile restoration or makeover and you are getting them for several front teeth, the end results are typically brighter and whiter than your natural teeth. However, they must blend with surrounding teeth if those teeth are not also receiving veneers. So it is often recommended to have your natural teeth whitened before the veneers are replaced.
Good dental porcelains in the right hands can make for spectacular tooth imitations by mimicking tooth enamel perfectly. And now that you have these facts, you begin to understand all of the expertise, artistry, and the technology required by laboratory technicians to produce the most dazzling porcelain veneers.
To learn more about porcelain veneers, continue reading the Dear Doctor article, "Smile Design Enhanced With Porcelain Veneers." Or if you are ready to see what cosmetic dentistry can do for you, contact us to schedule a consultation.